Our Core Values
(and Protected Characteristics)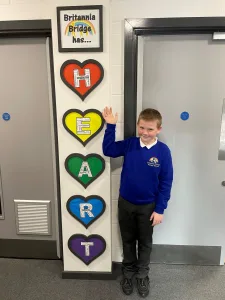 Britannia Bridge has HEART for Each and Everyone.
At Britannia Bridge, our Core Values underpin absolutely everything that we do. As a school community and family, they are essential for each and every one of us – they are what make Britannia Bridge such a special place to belong to! Our children leave us with these Core Values underpinning their every day lives – our aim is that all our children become positive role models and leaders of our future world. 
Happiness
Encouragement 
Aspirations 
Respect 
Teamwork 
Our Britannia Bridge Daily Mantra reminds us of our Core Values
and what we all stand for…
Protected Characteristics
At Britannia Bridge, the Protected Characteristics are precious to us. We understand that we must NEVER discriminate against anyone because of these and that it is against the law!